Italy has been facing a tough time, though it does seem the country will be soon out of the pandemic. As we simply loved our experience in Italy, we felt we must capture our experiences last year and definitely encourage tourism, which will help rebuild the country which should open soon.
Last year, we started our visit to Italy landing at Rome but heading straight down to Positano. Do catch our 3 day itinerary of Rome here https://inditourists.com/2019/05/15/when-in-rome-3-day-itinerary/
Also learn more about visiting the beautiful Amalfi coast here https://inditourists.com/2019/05/01/positano-and-the-amalfi-coast/
Italy on the whole deserves much more days but if time is an issue and you like us love visiting many places. Here is how you do Northern Italy in 6-7 days
13th April
Saturday
Florence
Galleria dell academia, Ponte Vecchio
Rome- Florence
14th April
Sunday
Florence
Visit the Ufizi, the Ponte de Vecchio
15th April
Monday
Florence
Tuscany Day Trip/ sienna/ wine valley
16th April
Tuesday
Milan
Florence to Milan spend the day in Milan
17th April
Wednesday
Milan
Milan – Lake Como Day Trip
18th April
Thursday
Venice
Milan – Venice
Our original itinerary (We dropped Cinque Terre, as we had already done Positano)
Florence
As a rule we always find accomodation at the centre of the tourist area close to public transport. In Florence we had a place right next to the Cathedral of Santa Maria del Fiore
tip: One way to ascertain location is to do a google maps check on transit to key station/air plane from where you come or will be heading. This becomes critical especially since you will be carrying maximum luggage from hotel to hotel. Once in a hotel it is very easy to shift down to a small bag with essentials
Cathedral of Santa Maria del Fiore
If you are a Money Heist fan Florence is the location of many a discussion between Berlin and the professor. We visited prior to the series, but were tickled by this small tit bit
The Cathedral is beautiful and beautiful really is an understatement. It is very different from any other Cathedral you would see in that unlike the usual gothic or Gothic inspired brown shades, it is white with shades of green and pink used to highlight parts.
Tip: Most of the original sculptures have been shifted to the Museum of Opera of Saint Maria of Fiore which also houses the original Baptistery doors.
The statue of david
tip: Book tickets to the Ufizi and the Galleria del academia in advance. Most tickets are booked by tour groups so you might have to pay higher and join them. Tours are expensive, so the earlier you plan the better
Despite visiting in the shoulder season, we couldn't get tickets for the Ufizi, what we did get were tickets for the Galleria del academia where the key attraction and probably the only attraction is the statue of david
The statue of davis is truly a site to behold. In Michelangelo's finest traditions, each sinew of the statue looks alive. You wouldn't be surprised if he just walked out and took a round. The proportions are not too scale but there is a reason behind it. It makes the statue look more imposing. You can see some unfinished statues which were meant to be prisoners or slaves. You can catch a completed set at the Louvre and honestly if these had turned out anything like those we missed a visual treat
Ponte Vecchio
From there we headed to the Ponte Vecchio, which is basically a mini market on a bridge, originally used by butchers. However good sense prevailed and it was reserved for merchants of precious jewelry, shops which can be found till today.
The best views of the Ponte Vecchio can be captured from the Piza Michelangelo or the Ufizi right towards the end of the tour.
Piaza Michelangelo
This is one long climb from the Ponte Vecchio but totally worth it as you get great views all along the path. There are two paths up to the Piazza. We suggest the longer one which is easier on the legs, you can always come back via the shorter pedestrian path. There is a cafe up here where you can grab an average hot chocolate to sip in and capture the views
This is also the best place to catch sight of the domeof the Cathedral of Santa Maria. Berleuscci designed this basis inspiration from the Pantheon.
Day2: Ufizi
We had kept Day 2 open and were deciding between Cinque Terra and just roaming around Florence. Ufizi had almost been dropped from the plans as we could not secure tickets or a place in a tour in time. Ufizi also has a reputation of being for the serious art lovers, which we were not sure we were.
However a spell of rain convinced us to do what we like best and we stood in the long line for daily tickets
tip: This can take 2 – 4 hours so plan to reach early in the morning or better still join a tour.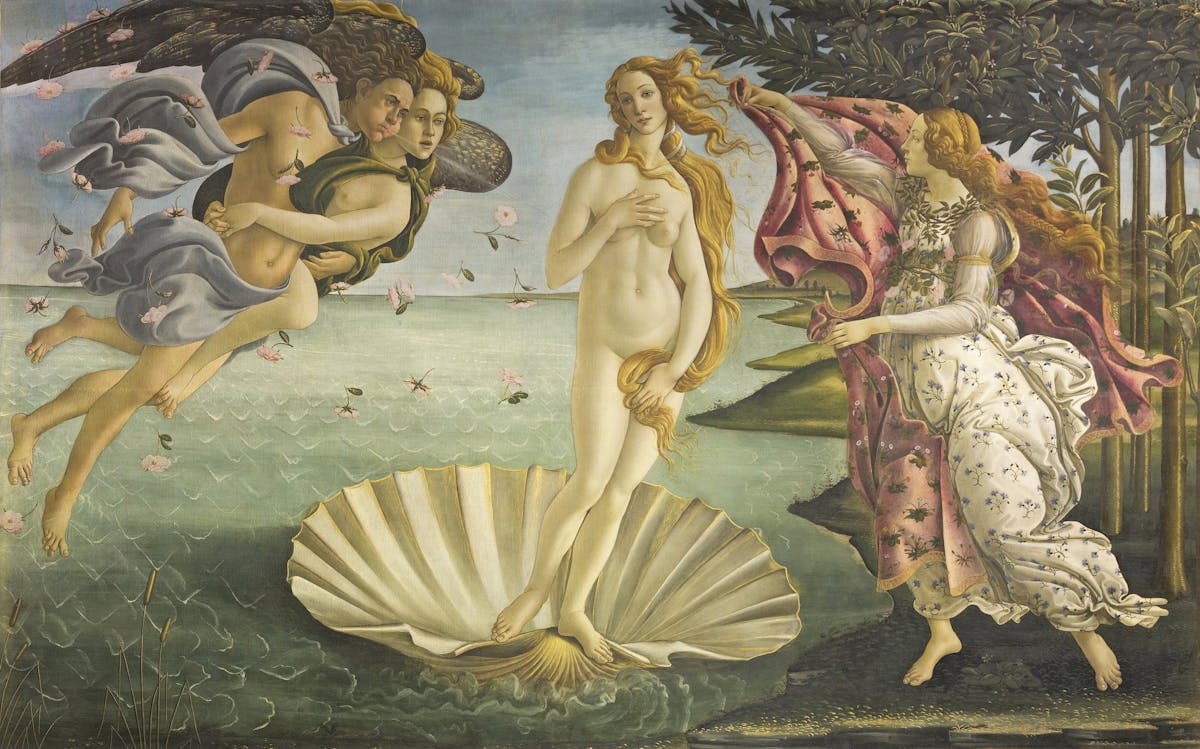 The museum's most famed artwork is the Birth of Venus, which is a rendition of Venus by Botticceli, a famed Italian painter. One of my favourite artworks though was one by Michelangelo called the Holy family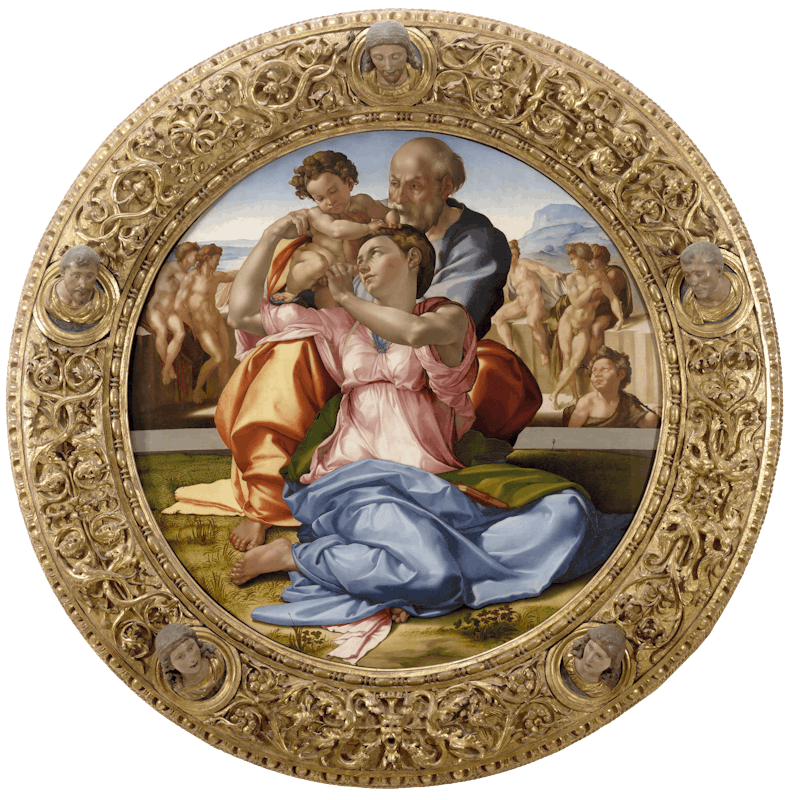 Michelangelo exaggerates muscles and sinews similar to his work on the sistine chapel. It's sculpture like and the attention to detail is amazing
The baptistery and the Museum of Opera of Saint Maria of Fiore
The baptistery is most famous for its doors which play an important part in Dan Brown's Inferno. Before Dan Brown they were famous for works by Pisano and Ghiberti. There is an interesting back story of how Brunelleschi the person who designed the dome of the cethedral lost a competition to design a door because his design needed more bronze.
The ceiling of the baptistery is one of the few parts which has the original artwork, the beautiful doors have been shifted to the Museum of Opera of Saint Maria of Fiore. It is one beautiful modern museum and is a must visit. We also visited the Bell tower which gives you a great view of the city but is one steep climb.
Day3: Trip to Siena, Pisa and tuscanny
Siena is most famous for the horse race in the middle of the square, which is a once in a year event. But if you want to see some great art you must visit the Siena Cathedral
Siena Cathedral
The Siena Cathedral was perpetually in a design contest with the one at Florence, which is what made them spend tons of money to look beautiful.
The cathedral is really beautiful especially the interiors which allow photography. The dome which is also modelled on the parthenon is a beautiful sight.
Wine country and San Gimignano
Tuscanny is also great wine country and we did enjoy a bit of wine tasting at a local vineyard. This is something you must definitely do. Though what we really loved in Tuscanny was visiting the small town of San Gimignano which has the best Gelato in Italy. The walled city is beautiful and deserved more than the few hours we spent there.
Gelataria Dondoli
This Gelataria is definitely the place to visit for some mind blowing Gelato, despite the lines which take 10 – 15 mins. We licked the gelato and walked through quaint lanes overlooking vineyards.
Pisa
No visit is complete without visiting the leaning tower and standing with a zillion tourists all trying to be caught holding up the tower. We did try some stunts ourselves and then retired to this nice spot near the nearby church from where we could catch a glimpse of the tower
I must say Ditta was most accomodating of my attempt to capture the tower through her eyes 🙂
Day 4: Milan
We actually visited the baptistery early morning before heading to the Florence station which was just walking distance. From there we headed to Milan by train and again found a place close to the Milan cathedral.
Milan Cathedral
The Millan Cathedral with its gothic spires looks like a scene out of a fantasy movie or Gaudi's inspiration for some of his work. It is eeriely beautiful from outside and even better looking from within.
tip: Combine this with the viewing of the last supper painting into a guided tour as tickets for the last supper painting are impossible to book unless planned months in advance. We also prefer a guide in places of historical importance where audio guides may not be available.
The last supper – Santa Maria Delle Grazia
The last supper is a bit of a let down in that the painting opposite, the crucifixion looks more impressive, but stare at it and you see how cleverly perspective has been used to get the impact of a long room. Observing the painting on a machine placed in the next room shows you how the multiple characters overlap each other almost seamlessly. Definitely worth a visit.
Galleria Vitorio Emannuel ii
Milan is one of the richest parts of Italy and the centre of high fashion. There are places you can visit near Milan where high end fashion is available at discounts. If you can't visit those at least visit the Galleria which has enough stores to give you a fair idea of Milanese life.
Day 5 Lake Como
In one of the options we had planned out, we were to stay at Como and then head to Venice from there. However the idea of lifting all our luggage cross country and spending our nights at a quiter Como then a bustling Milan changed our plan.
The train from Milan takes a nice route to reach lake Como's S Giovanni station, from where the lake is a short walk away. We reached the lake and took a furnicular to the village Brunate a quaint little village 700 metres above the lake. The furnicular itself gives you a great view over the entire lake
Bellagio
After coming down we took the ferry to Bellagio. Bellagio is the home of the rich and the famous.
As you sit on the banks of the lake which has a nice pleasant weather you can watch the mountains of northern Italy famous for skiing. We also had a wonderful plate of Pasta by the Marina then sat on the banks watching the beautiful lake in the warm sunshine.
Varenna
Tip: One way to truly experience Lake Como is by travelling by boat from S Giovanni to Varenna and then taking a train back from there. This gives you more time at the lake itself.
Varenna is this quaint little village which is now a major tourist destination. Every spot here is worth clicking and we did get in some good pics though the place to visit for some exceptional pictures is Villa Monastero
From Varenna we headed back to Milan for a great dinner to fuel us for our visit to Slovenia via Venice
Day 6: Venice
We must confess that one day is not sufficient to see Venice, but we have visited the place before. This time it was to be a spot from where we would visit Slovenia and unvisited country which promised much. However since we loved Venice so much we decided we'd be there for a day and reminisce about our honeymoon
Rosso pomo doro
Having eaten Pizza across italy, we must mention that this was the best pizza we ate and cam close to Nanarella in Rome in terms of the best meal in Italy. Truffle pizza with vegetables never tasted better. Pizza by its nature is actually a vegetarian food which suits me and is tolerated by Ditta largely because it tastes great.
tip: It always makes sense to take the one day pass for travel in venice. It is valid for 24 hours and will always work out cheaper. Venice is always full. Just make sure you swipe the card before entering a ferry or risk being arrested for ticketless travel
Murano, Burano and so on
Venice is surrounded by small little islands. 5 years back in 2014, these islands were sparsely populated. This time we had to stand in lines to get on to the vaporetta. Murano is basically an industrial island where you can see glass blowing and purchase exquisite glassware. Since we had been to Murano before we decided to visit the beautiful island of Burano
Courtesy the tribe of instagramers, Burano is nothing like it used to be, but on a lucky day you will still manage to soak in the vibrance of multi coloured buildings and those delicious buttery bussalo cookies.
tip: In case there is a crowd at the Burano terminals walk down to adjacent Mazzorbo which is also a vaporetta stop which most tourists wouldn't know about. do check on the schedule though of which boat you want to catch
As we were anyway in a reminiscing mood, we just caught one of the vaporettas which took us to another island, unfortunately most of them are crowded nowadays.
Rialto bridge, Saint Marks square, Dodges palace etc
A proper visit to Venice needs you to visit the most beautiful cathedral, the dodge's palace and just walk around the main island. Since we had visited all the sights earlier, we just walked around and during these wanderings chanced upon the Ristoranto Al Teatro Goldoni which was our regular dinner place, where he had scrumptious Alio Olio pasta with sweet house wine.
We then walked down to Rialto bridge and re captured a photo captured years back. I still remember how patiently Ditta stood while I tried to make sense of the manual mode of a mirrorless camera I had just bought. That was 2014. Five years later she's as patient as before 🙂
Then we walked up to St Mark's square where we grabbed some good food and then strolled to the pier watching the late night gondolas passing by
We left Venice the next day to visit Slovenia, a new country for both of us but as we left Italy our heart wept a little. Yes, it can be scary with pickpockets, it is a little tricky to navigate, but the people are great, the food is amazing and you can't help but want to visit again.
Waiting for lockdowns to end
Inditourists